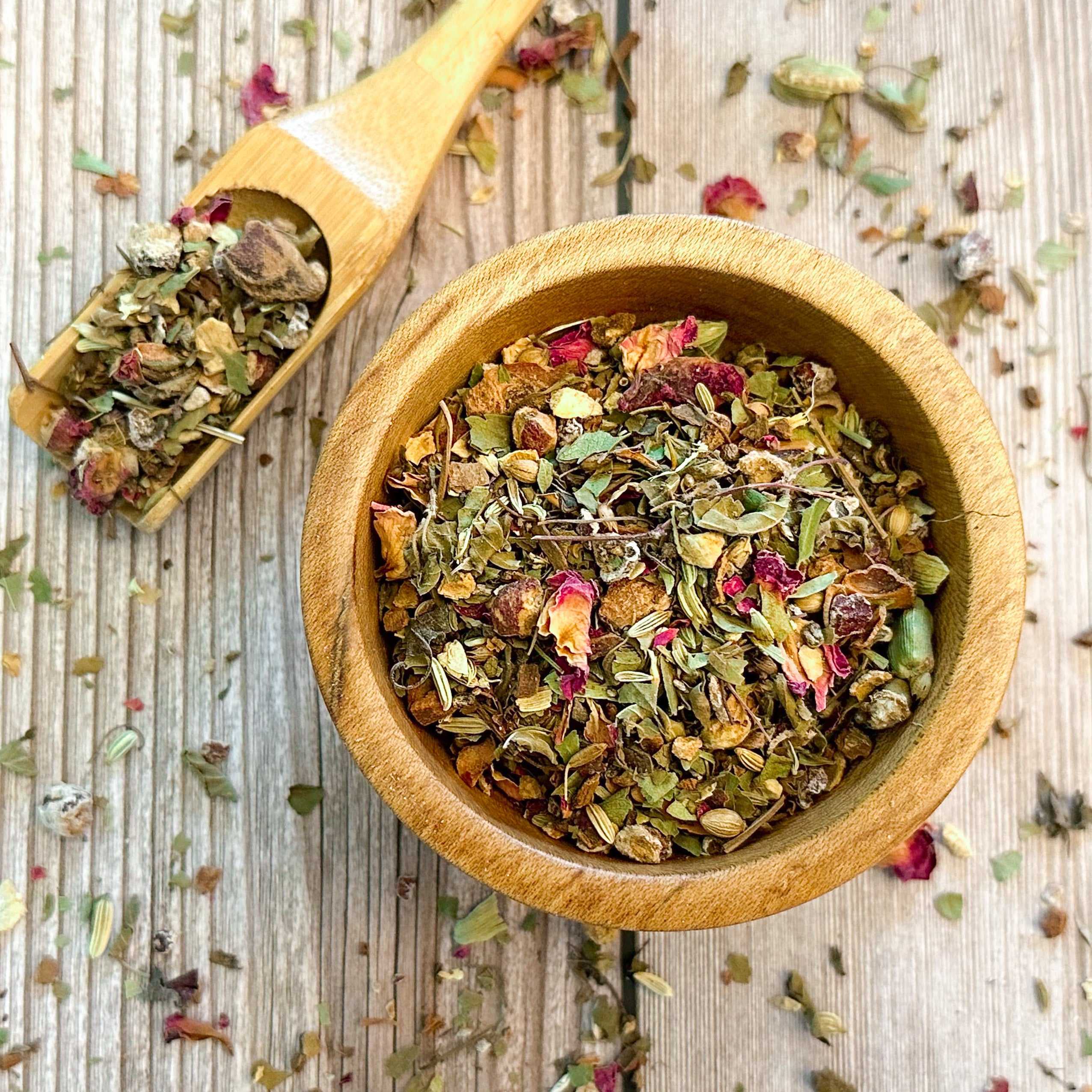 Sacred Integration // Heart Opening Chai
Sacred Integration is most beautiful blend designed to open the heart space and help one to "digest" life's experiences to promote healthy integration, wholeness & cleansed energy. Digestion ties to our ability to process life's events, balancing our heart chakra and solar plexus creates a bridge allows for a deep understanding between our mind/ego and our hearts. Tulsi offers a balanced & peaceful energy into our being, clearing out blocked energy & emotions. In Sanskrit, understood as "the incomparable one," she's said to balance all chakras. The heart activating herbs of hawthorn and rose create a spiritual shield for the heart, teaching us the importance of setting sacred boundaries and opening us to higher Love frequencies, helping us feel nurtured and supported. Sweet, yet tart and floral flavors collide with a chai-like essence and warm notes of spice.
POTENTIAL BENEFITS:
Adaptogenic* (R)
May help reduce anxiety/stress* (R) (R)
May help improve digestion* (R) (R)
*These statements have not been evaluated by the FDA. This product is not intended to diagnose, treat, cure or prevent any disease.
Organic Ingredients: Tulsi (O. Tenuiflorum), Hawthorn Leaf, Flower & Berry (Crataegus sp.), Red Rose Petals (Rosa spp.), Ginger Root (Zingiber officinale), Cinnamon (Cinnamomum burmannii), Fennel (Foeniculum vulgare), Anise (Illicium verum), Cardamom (Elettaria cardamomum), Coriander (Coriandrum sativum)
Serving Size: 1 tsp.
Approx. servings: 42
Steep Time: 3-5 min.

Add 1 heaping tsp of tea (or 1 TBS for stronger tea) to infuser or teapot. Pour 6-8 oz. boiling water over the tea. Let steep (see tab above for proper times)
We recommend that you consult with a qualified healthcare practitioner before using herbal products, particularly if you are pregnant, nursing, or on any medications.