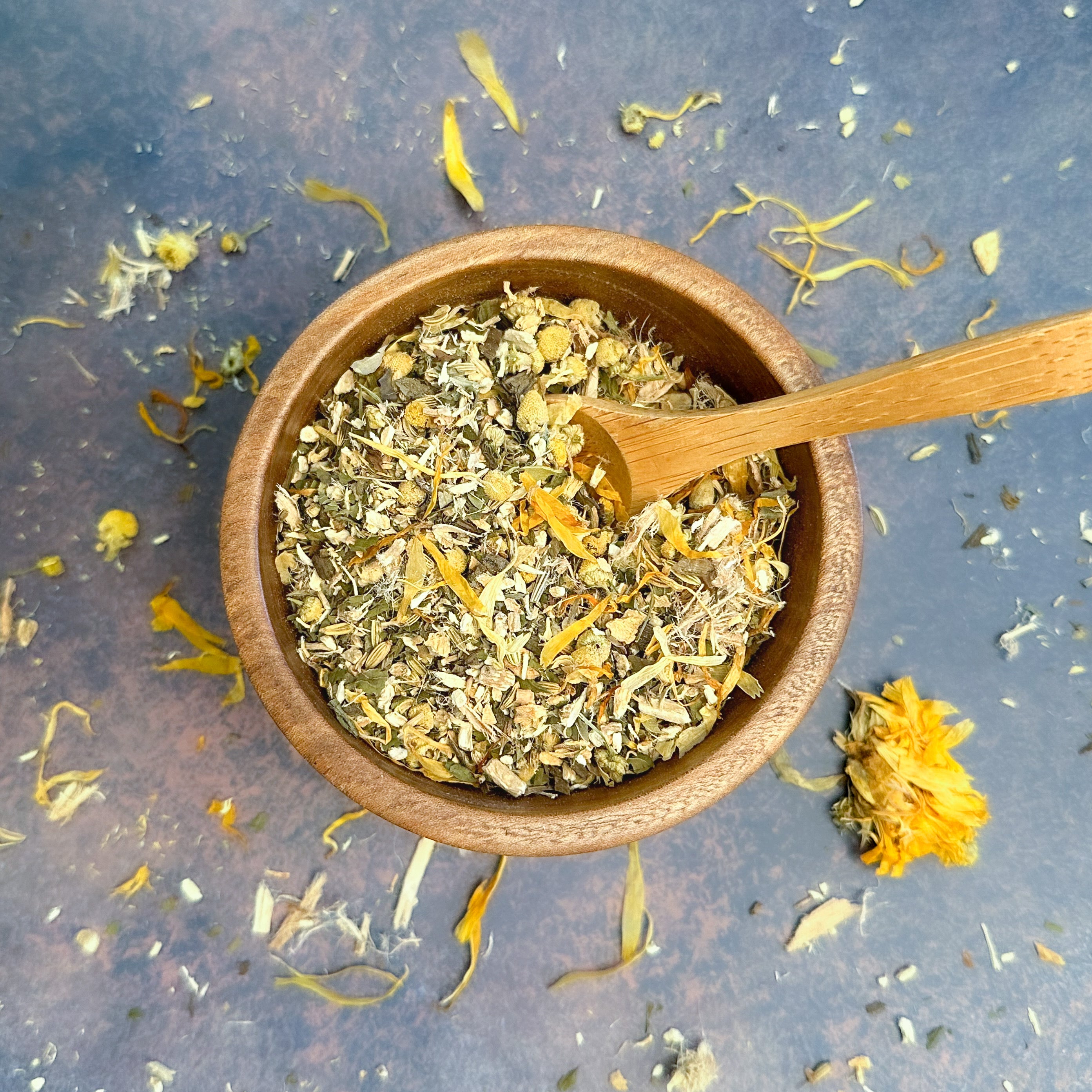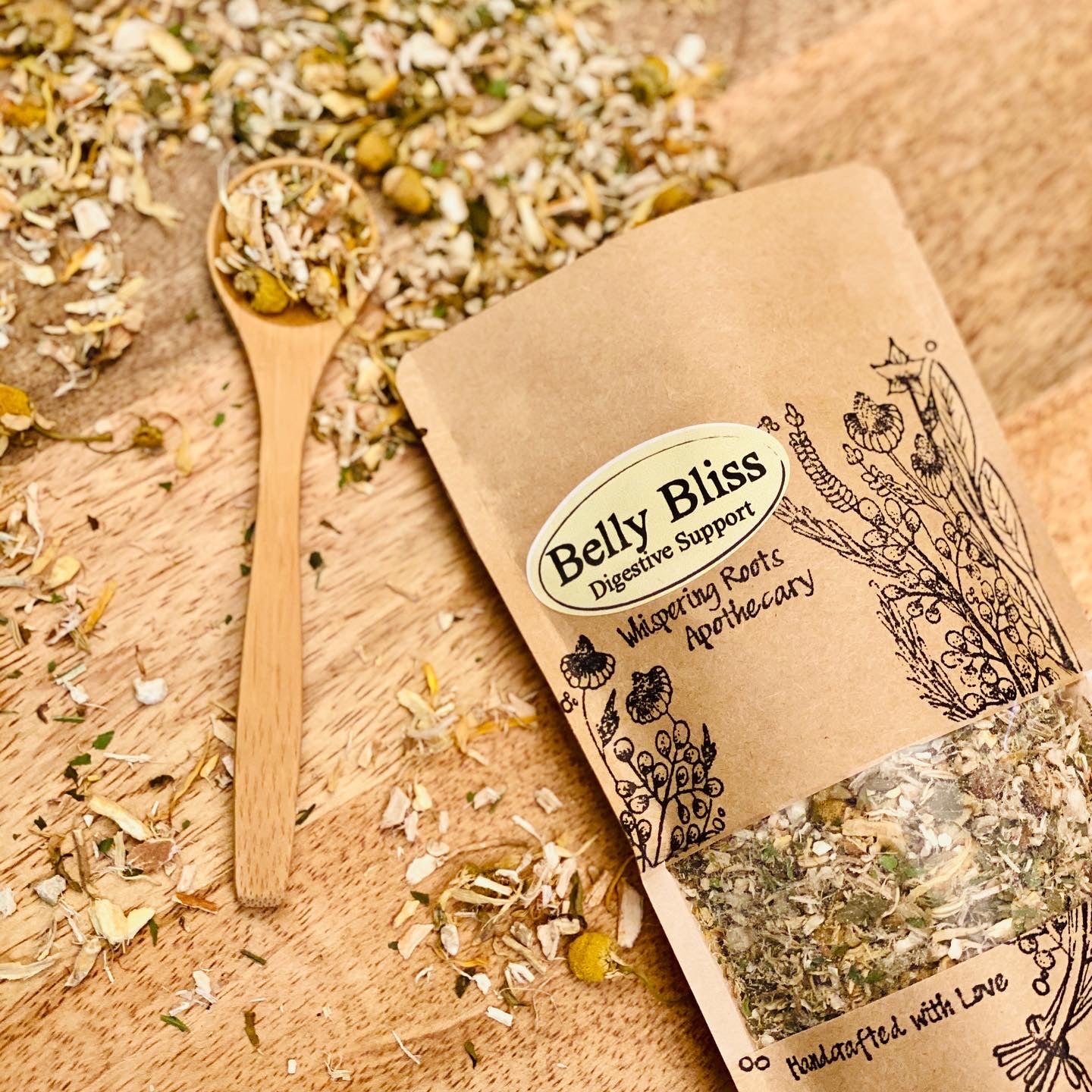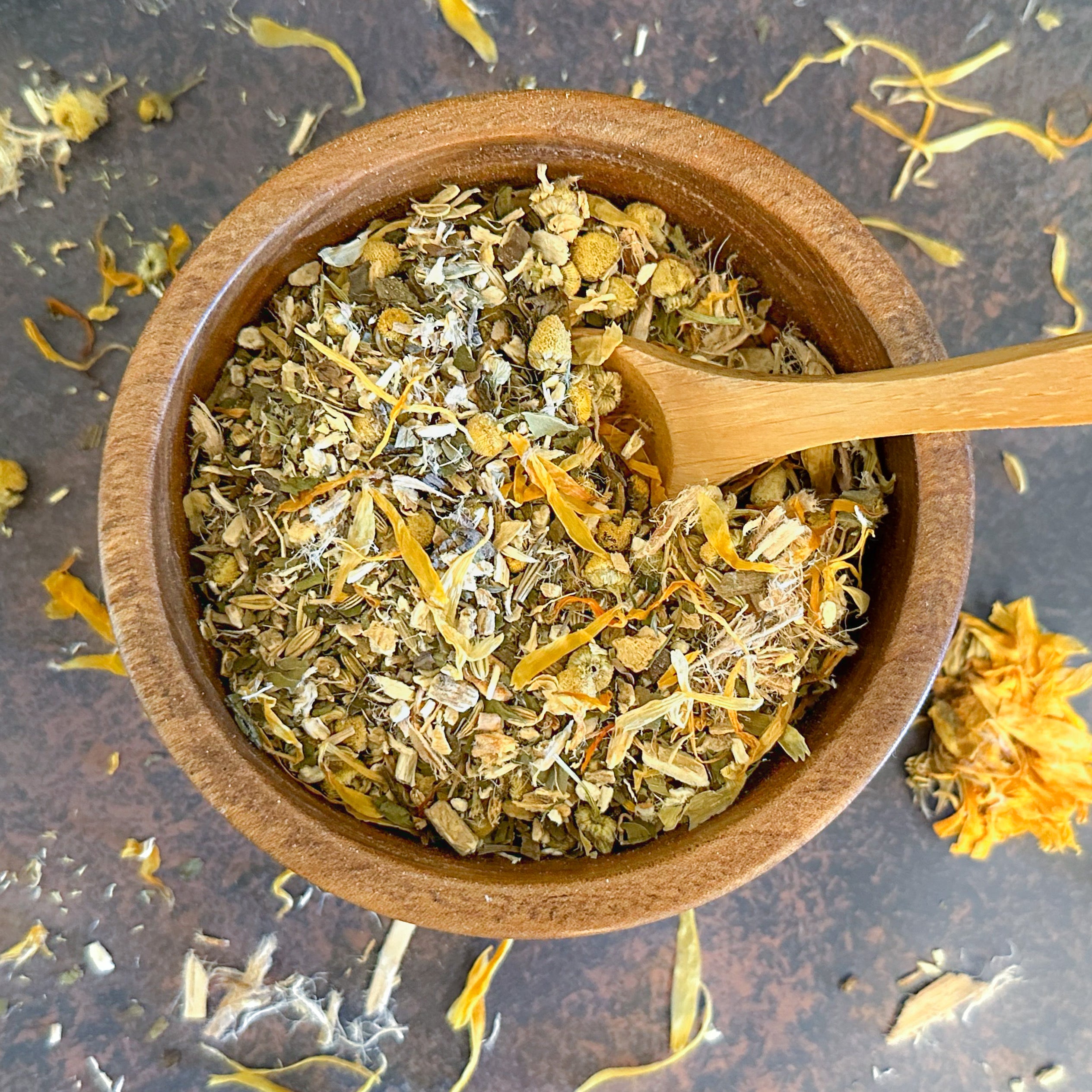 Belly Bliss* // Solar Plexus Chakra
Herbs have been used in many cultures as a means to potentially enhance digestive health and bolster GI wellness. Demulcent herbs supply calming and moisturizing effects to hot and dry areas of the body, whereas astringent herbs (such as plantain and calendula) stimulate the toning and tightening of tissues*. As a cold infusion, the demulcent actions of the slippery elm & marshmallow root, help to lubricate & soothe the GI.* Caffeine free.

POTENTIAL BENEFITS:
May reduce inflammation.* (R)
May help improve digestion/overall GI health* (R) (R) (R) (R) (R)
May help repair gut lining* (R)
May help reduce bloating* (R)
*These statements have not been evaluated by the FDA. This product is not intended to diagnose, treat, cure or prevent any disease. 
Organic Ingredients: Marshmallow Root (Althaea officinalis), Slippery Elm (Ulmus rubra), Chamomile (Matricaria chamomilla), Plantain (Plantago major), Calendula (Calendula officinalis), Ginger Root (Zingiber officinale), Peppermint (Mentha piperita) & Fennel Seed (Foeniculum vulgare)
Serving Size: 1 tsp.
Approx. 30 servings
Add 1 heaping tsp of tea (or 1 TBS for stronger tea) to infuser or teapot. Pour 6-8 oz. boiling water over the tea. Let steep (see tab above for proper times)

For a cold infusion: Add 1 TBS of tea to muslin reusable bag. Submerge the herb-filled bag into a quart ball jar. Fill with cool-room temperature water. Seal lid & leave on counter away from direct sunlight for 4 hours. Remove herb pouch & refrigerate.
We recommend that you consult with a qualified healthcare practitioner before using herbal products, particularly if you are pregnant, nursing, or on any medications.