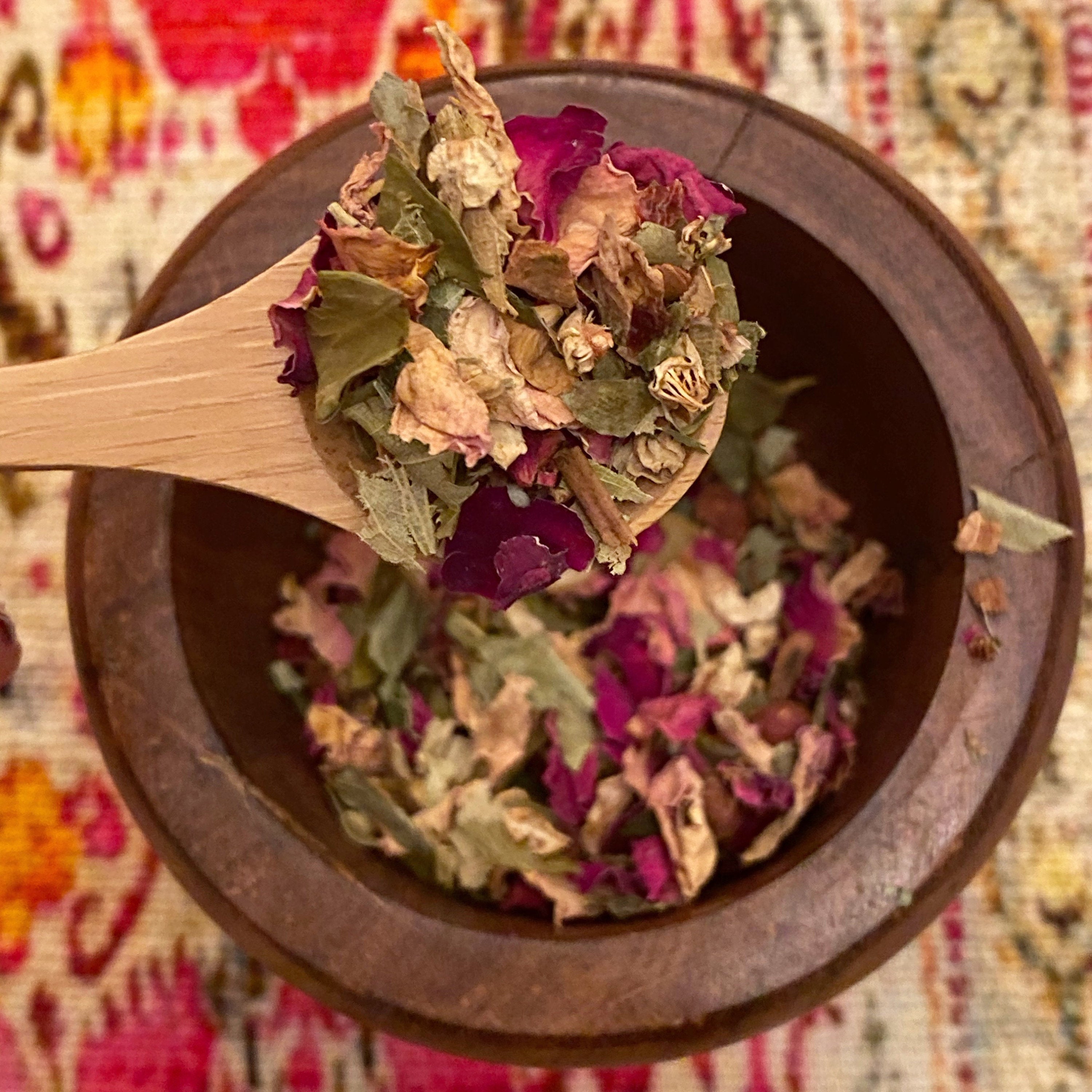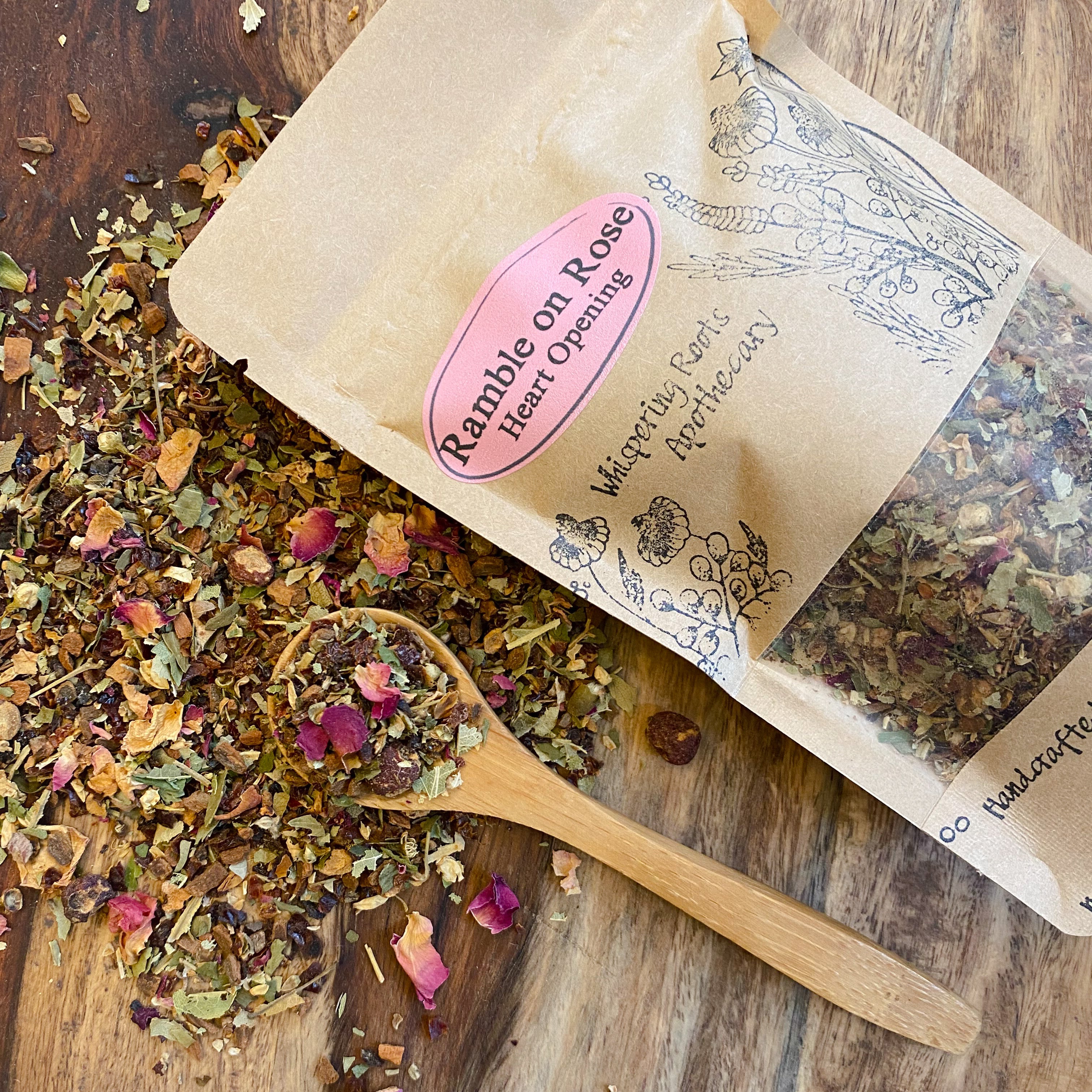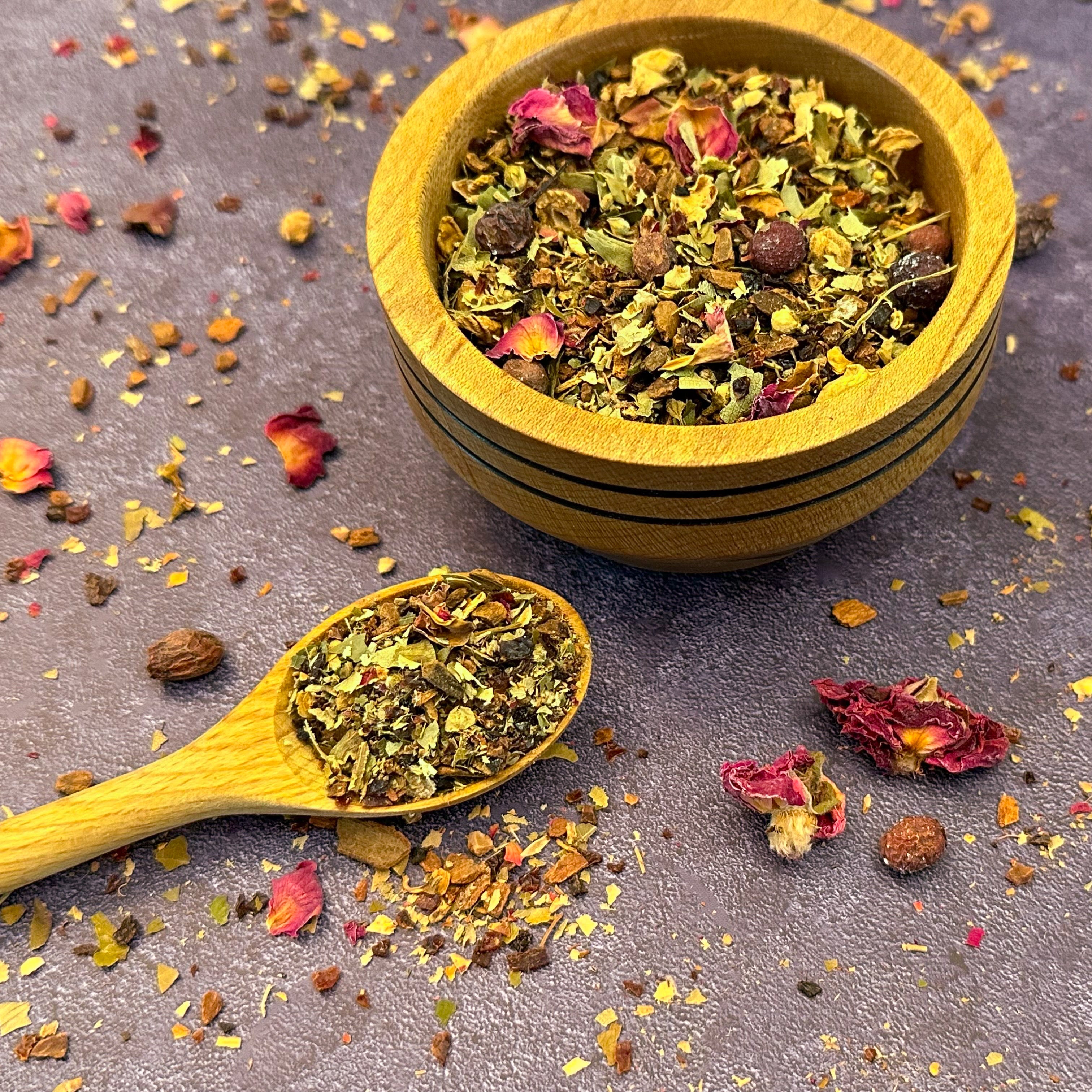 Ramble on Rose // Heart Chakra
Ramble on Rose is one of our most beloved herbal teas. Its warmth soothes & shields the spiritual heart, supporting the balance of the heart chakra while opening the Sacred Heart. In times of difficulty, grief & darkness, extra nurturing & compassion may be needed to bring solace. These herbs offer deep comfort when the heart weighs heavy & feels constricted. If your heart's already overflowing, may the joy and openness keep expanding. As you journey to Love, may this blend nourish & sustain you, while helping you shed the parts of yourself that no longer serve. May you embrace and bathe in the Love and beauty that you are. 
The Heart Chakra invites us to love ourselves & others, to blend earthly & spiritual ambitions, and to go beyond our ego & identity. It evokes an experience of unconditional Love & connection with all life, as well as a greater appreciation of beauty & deeper relationships. Anahata speaks of connection with an emphasis on Love given & taken. It encourages us to recognize that we're part of something greater, interconnected & held together by a Sacred truth uniting the cosmos. Seeking the "Path of the Heart" is to live a life guided by Love.
POTENTIAL BENEFITS:
May help reduce anxiety/depression* (R) (R) (R)
May help support immune function* (R)
*These statements have not been evaluated by the FDA. This product is not intended to diagnose, treat, cure or prevent any disease.
Organic Ingredients: Hawthorn Leaf & Flower (Crataegus sp.), Linden Leaf (Tilia cordata), Cinnamon (Cinnamomum burmanni), Rosehips (Rosa canina), Hawthorn Berry(Crataegus sp.), Red Rose Petals (Rosa spp.), Pink Rose Petals (Rosa spp.)
Serving Size: 1 tsp.
Approx. 30 servings
Steep Time: 3-5 min.

Add 1 heaping tsp of tea (or 1 TBS for stronger tea) to infuser or teapot. Pour 6-8 oz. boiling water over the tea. Let steep (see tab above for proper times)
We recommend that you consult with a qualified healthcare practitioner before using herbal products, particularly if you are pregnant, nursing, or on any medications.