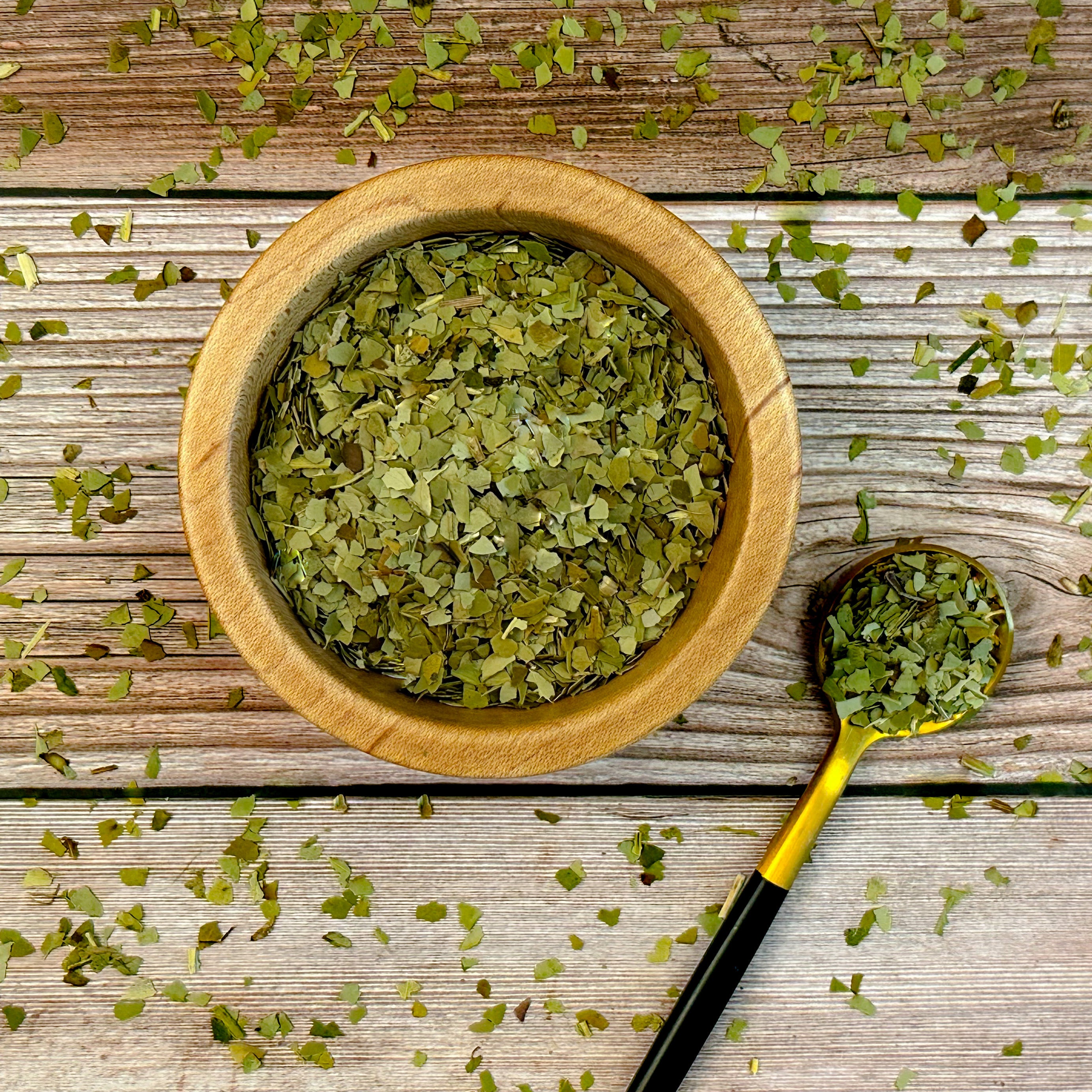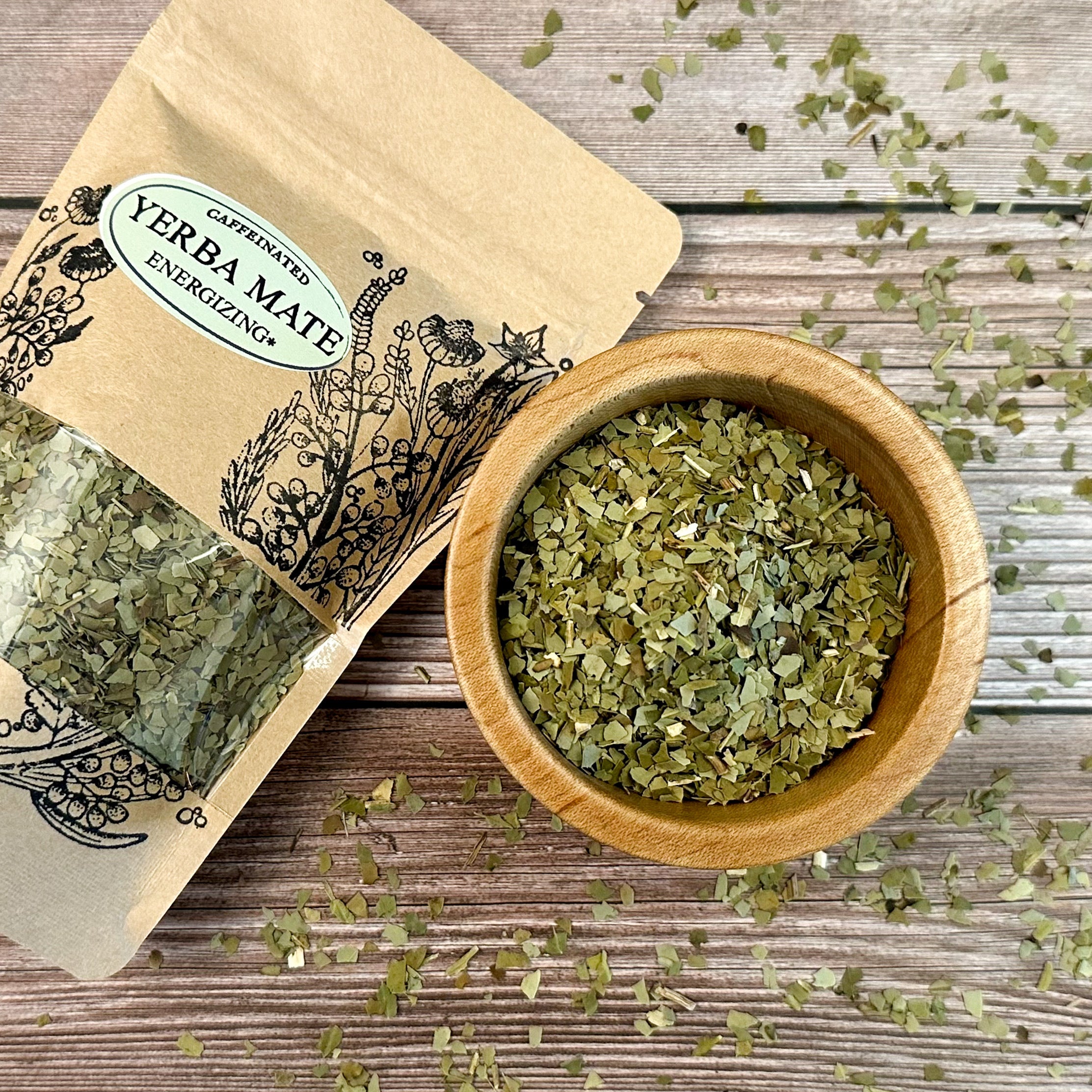 Yerba Maté is a traditional beverage from Argentina, Paraguay and Brazil in South America. Its leaves are naturally caffeinated from a native species of holly tree. Discovered by the indigenous peoples of the forests of Paraguay (the Guarani) and Southern Brazil (the Tupi), yerba maté was believed to be a gift to sustain life, increase vitality and heal the sick.* As a spiritual herb, yerba mate was used for worship and often used for religious and other important tribal ceremonies. Traditionally, yerba mate is prepared in one gourd with a bombilla straw & shared as a part of the social and cultural experience, honoring friendship and hospitality.
With its strong caffeine content, yerba mate may help increase energy levels and awaken the mind.* Many say it is one of the few sources of caffeine that doesn't bring about the "jitters." Maté typically contains more caffeine than black tea but less than coffee. Its earthy, herbaceous and bitterness can be tamed by adding other herbs, such as peppermint, lemon, honey or milk.
POTENTIAL HEALTH BENEFITS:
Antioxidant & nutritive* (R) (R)
May boost energy* (R)
May help increase mental focus* (R) 
May help aid with digestion* (R)
*These statements have not been evaluated by the FDA. This product is not intended to diagnose, treat, cure or prevent any disease.
Organic Ingredient: Yerba Maté (Ilex paraguariensis)
Serving Size: 1 tsp
Approx. 30 servings
Add 1 heaping tsp of tea (or 1 TBS for stronger tea) to infuser or teapot. Pour 6-8 oz. boiling water over the tea. Let steep (see tab above for proper times)

TRADITIONAL BREW: The first rule of brewing traditional maté is to never pour boiling or very hot water over dry leaves, this will cause the tannins to extract too quickly resulting in a much bitter taste. The ideal temperature of the water should be 160-180 degrees F. Maté brews slower than conventional tea to extend its flavor. You may reuse the leaves several times and with each addition of water the taste will be slightly different.

In South America yerba maté is brewed with a maté (cup) and a bombilla (filtered straw), the leaves are placed in the bottom and a small amount of cold water is added to stimulate the leaves to help preserve the integrity of the tea. Warm water is added to brew the first cup, this will be the strongest cup of the day and contains the most caffeine. For all succeeding cups warm or cold water can be used as the flavor lightens and sweetens.

FRENCH PRESS: Add 1 TBS to 12 oz water, dampen the leaves with cool or lukewarm water and allow to sit for a few minutes. Top off with warm water and wait for the leaves to float to the top, do not stir. Stirring causes the dust of the yerba to clog the French press. These leaves can be used multiple times to achieve similar flavor variations.
We recommend that you consult with a qualified healthcare practitioner before using herbal products, particularly if you are pregnant, nursing, or on any medications.