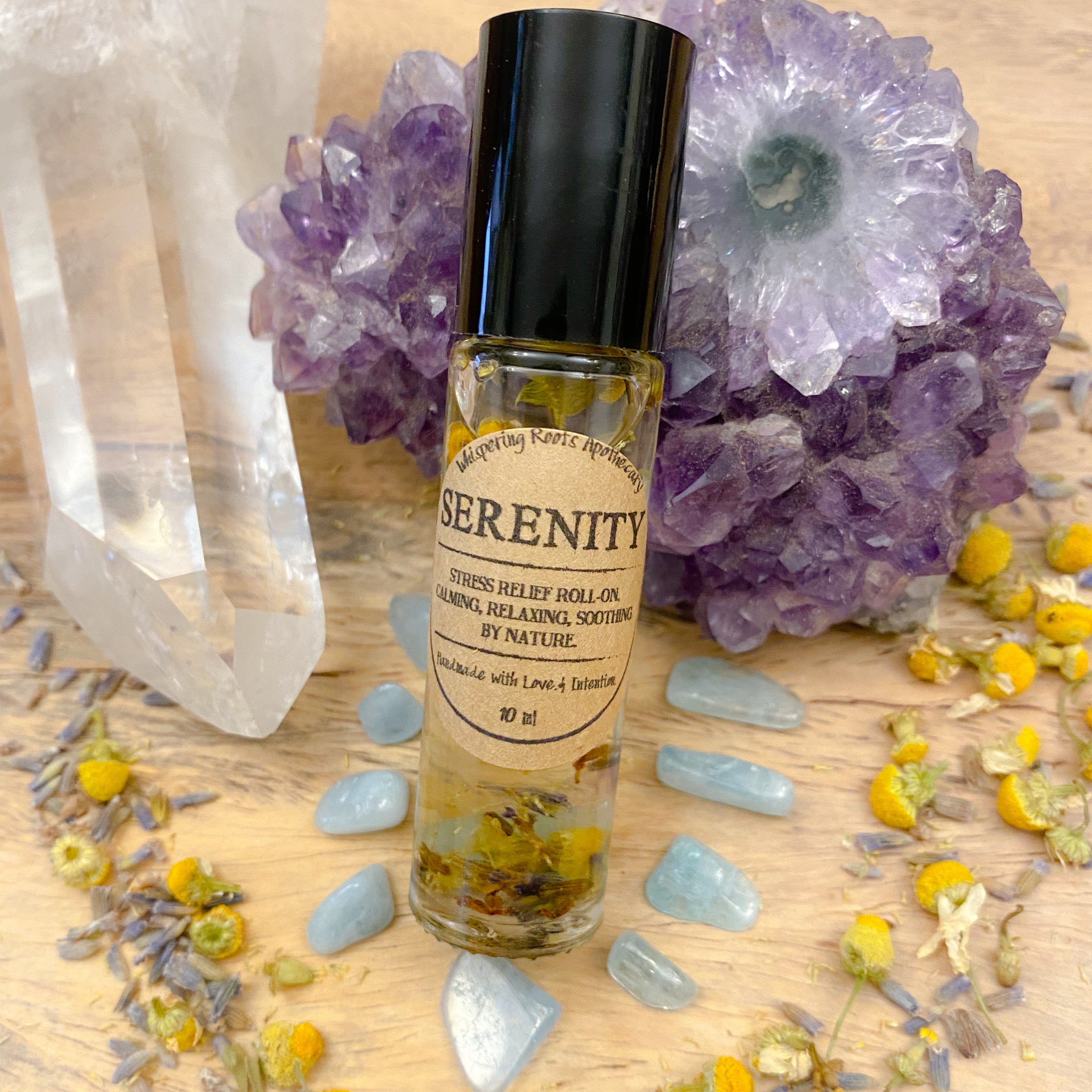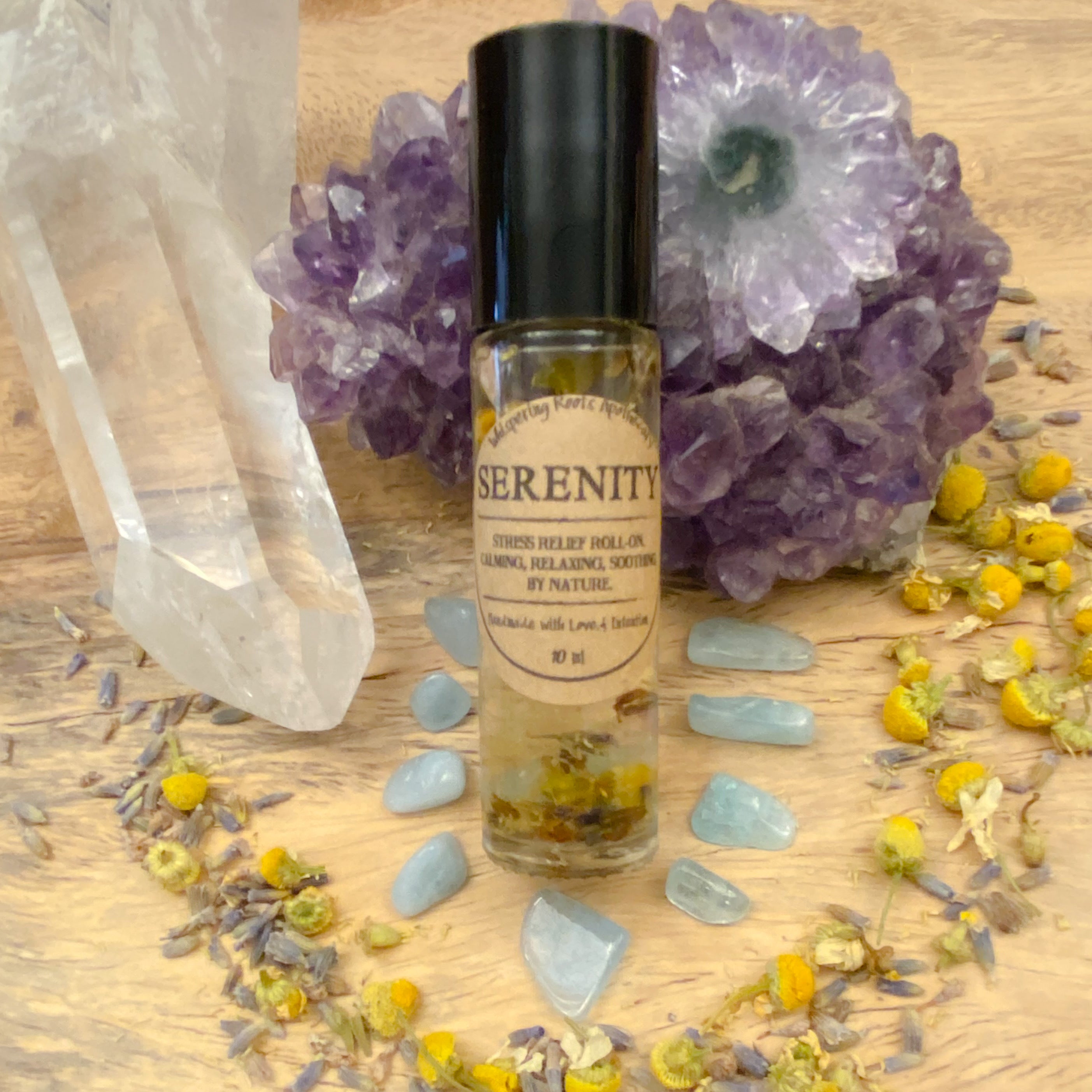 RITUAL ROLL-ON

Affirmations: "I am at Peace. I am calm. I am in the flow of the Divine Universal Energy. I feel peaceful, relaxed and nourished."

Serenity helps bring balance to your daily life through vibrational healing and aromatherapy. It helps to align you with peaceful, calm, relaxed and a more centered vibration. A powerful remedy to aid in stress relief and to bring in a strong sense of tranquility and serenity.
The Oils:
Lavender helps to relax and calm the body. It clears emotional negative energy from your mind, body and spirit, while promoting balance and wellness. Lavender is a powerful ally for stress, allowing us to become more peaceful and serene.
Roman Chamomile is the oil of Spiritual purpose. This oil helps support the individual in finding meaning in their lives, when one finds purpose, they feel more peace and calm. Chamomile softens the personality and leads the soul to where it needs to be and what it needs to be doing. It calms insecurities and helps to relax anxiety and nervousness. She helps us feel connected and supported.
Rose helps to clear mental fatigue to align one with a higher Divine healing. She wraps us with Love and kindness to activate our hearts and nourish our spirit.
Ylang Ylang is a powerful stress reliever, helping to reduce anxiety. She helps us to focus on gratitude, happiness and our blessings. She helps to relax and calm the nervous system. Ylang Ylang soothes and comforts us to assist with insecurities, stress and nervousness, while promoting joyfulness. She has been used to balance the mind and emotions to improve communication, as well as to reunite us with our emotional needs.
The Stones:
Amethyst is a stone of protection, purification and Divine connection. She is a stone of the wind element and one of Spiritual protection. She helps clear one's energy field of negative influence, creating an energetic 'shield' of Spiritual Light around the body that ward off any negativity in one's environment. Amethyst's energy builds a cocoon of Light around one's aura, creating a powerful resonant field that helps one remain clear and centered while staying open to spiritual direction and intuitive information. She allows us to surrender to the Divine and helps balance the nervous system.
Quartz can help one to find their inner sense of peace. Quartz is often referred to as the "Master Healer." Quartz has been added to enhance the strength and raise the vibration.
Aquamarine, "Water of the Sea," is a stone of soothing water. She promotes gentleness and helps to calm frustration. It is a stone of empowerment connecting us to the Divine Feminine. This stone helps stimulate one's natural flow of energy. She helps to balance excessive anger or fear and brings our emotional bodies into harmony. It helps us to clear stagnant energies and assists us in releasing old patterns, such as tendencies for stress or anxiety.
References:
Enlighten. 2012, Emotions & Essential Oils, Enlighten Alternative Healing
Simmons, Robert & Ashian, Naisha. 2007, The Book of Stones, Heaven & Earth Publishing
Carrier Base: Organic Sunflower Oil

Essential Oils: Lavender, Roman Chamomile, Rose, Ylang Ylang

Stones/Crystals: Quartz, Amethyst, Aquamarine

Organic Herbs: Lavender, Chamomile

Flower Essence: Lavender, Chamomile, Passionflower
Roll onto wrist points, heart space or behind the ears.