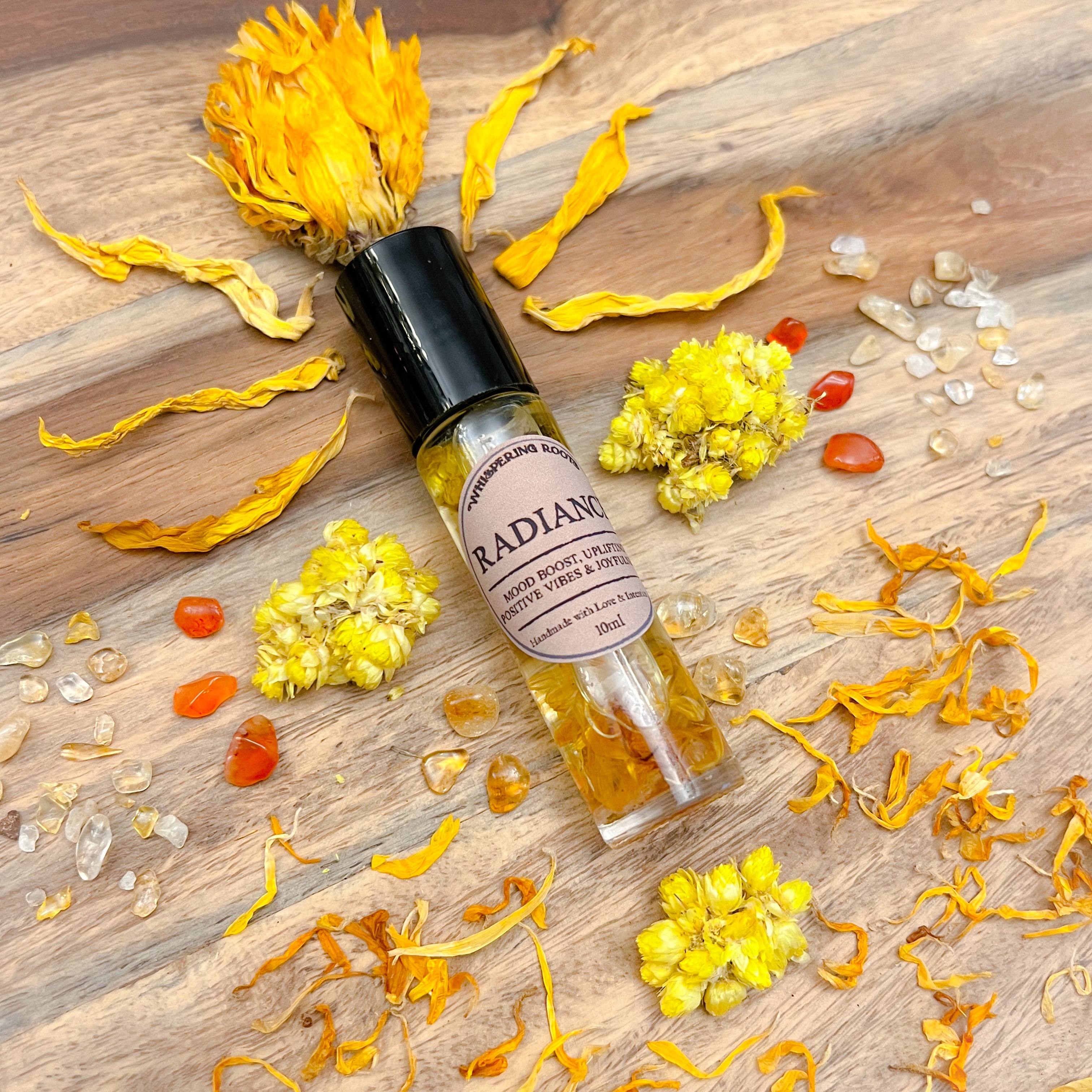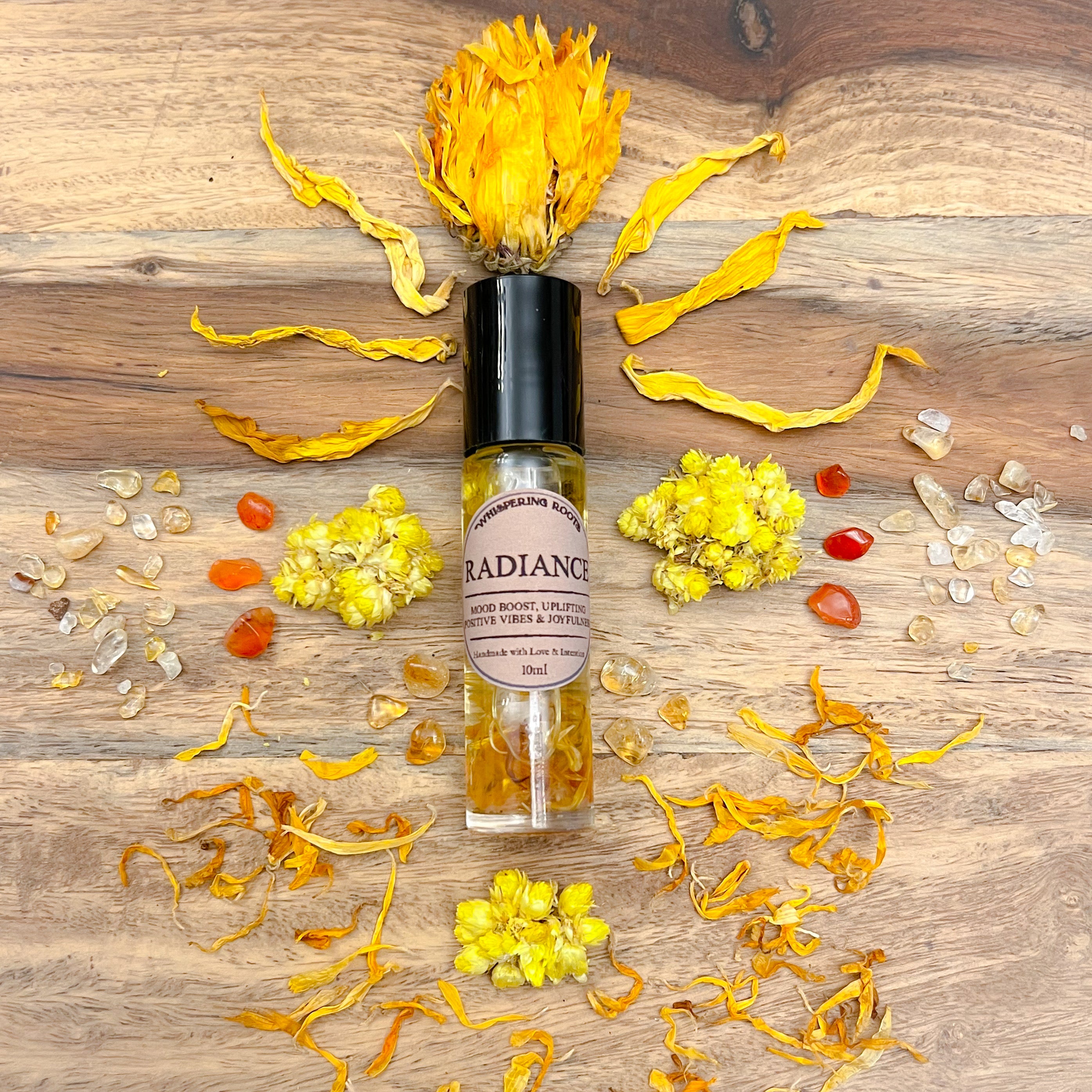 RITUAL ROLL-ON

Affirmations: "I call to me now the warmth and radiant energy of the Sun. I AM confident. I emanate positive energy from within. I call upon, from within my center, my own inner fire, strength and sunlight. I invite the feelings of happiness, cheerfulness, hopefulness and joyfulness to radiate within myself and all around me. I AM vital life force energy."

The Oils:
Essential oil of orange supports a positive mood, gratitude attitude, joyfulness and increased physical energy. Orange oil invites it's warm, sunny, sweet aroma to dispel negativity and moodiness. It helps us to reconnect with our inner child and offers us a sense of playfulness & happiness. Orange teaches us the true nature of abundance. It encourages us to let go of fear and nervousness to invite in laughter and joy. Oranges have long been associated with good luck!
Clary sage helps to dispel darkness and increases one's ability to visualize and manifest new possibilities. It helps promote hopefulness and encouragement. This oil helps to fight mental fatigue, deep-pressed feelings, and nervous anxiety to create space for emotional/mental elevation. Clary sage asks us to remain in the here and now, and helps us to maintain in a natural state of "being in the flow" of our life.
Ruled by the sun, rosemary is a plant of vitality and individuality. She invites us to trust and brings support to feel confident and assured in times of great change. Her volatile oils help stimulate our energy and uplift the spirit. Rosemary's powerful properties increase our vital fire. She reinforces the heart and empowers the mind, warms the spirit and makes it bold. As an herb of remembrance, it helps us to remember our path.
Bergamot essential oil helps to relieve feelings of despair, self-judgement and low self esteem. Her uplifting nature supports us in the need of self-acceptance and self-love. Bergamot has a most powerful cleansing affect on stagnant feelings and limiting belief systems. (Such as "not enough", "unworthy" or "unlovable".) Clearing these energies can bring a renewed sense of hope. She awakens the soul to cheerfulness and offers courage to share the inner self, reigniting optimism and confidence. 
Lemon's citrusy bliss helps one's ability to focus and teaches us to be emotionally present. Lemon dispels emotional confusion and doubt to promote clarity & confidence. This oil inspires trust, playfulness and buoyancy in the heart. It assists in releasing deep-pressed feelings to restore joy and happiness. Lemon brings in it's fiery  light to uplift the heart and restore the mind.
The Stones:
Citrine opens the inner doors to increased clarity of thought, enhanced creativity and magnified will-power and manifestation. It allows one one to bring forth Divine energy into form through intention and action. It assists one in maintaining one's direction when obstacles appear on the path. Citrine is a stone of the first, second and third chakras and is ruled by the element of fire. It works synergistically with the other stones to magnify their strength. Citrine is a powerful purifier of one's will center. It helps one perceive and heal issues of power abuse or powerlessness. Physically, citrine helps to boost physical stamina and energy levels.

Sunstone is a powerful ally to enhance strength, abundance and Divine masculine energy within. Its element is fire and works with both the sacral and solar plexus chakra. It is a stone of personal power, freedom and expanded Consciousness. Of all the stones on this Earth, this one truly reflects the qualities of Solar Light, openness, benevolence, warmth, strength, mental clarity and the willingness/ability to bestow blessings onto others. Sunstone rekindles the fire of natural leadership. For those who may feel themselves held back by fear or self-doubt, or feelings of unworthiness, sunstone emanates of positive spectrum of energy and abundance. It is an ally for one's manifestations. Sunstone teaches one to utilize one's skills in service to others, while radiating the Solar Ray energies to attune us to the light and energy of the sun. Its warmth can stimulate the emotional body and help one transmute anger into joyfulness. It helps us to raise the vibration of one's emotional patterns. Sunstone warms the physical body, helps to increase metabolism, aids in digestion and increased vitality.
The fiery stone of carnelian, like citrine, activates our root, sacral and solar plexus chakra.  (These are the points at which the high-frequency energies of the emotional and spiritual planes manifest into the lower-frequency realm of physicality.) This activation brings forth an influx of vital life force, creative energies and assertive will. It is a powerful stone to aid in building confidence, courage, passion and to harness the power within themselves. It is of the great help to the gentle souls who wish for good things but have difficulty making them happen. Carnelian lends courage when we need to take a leap of faith. It's a wonderful stone to help us manifest, as it stimulates us to take action towards our goals. Physically, this stone helps to strengthen and fortify the body to increase vitality & overall health. 
Selenite moves us into union with our Higher Self by clearing etheric debris from our energetic field. This stone helps to clear blockages and densities in our energy field, stimulates the emotional body and compels us to move forward.
Quartz helps to amplify this blend!
References:
Enlighten. 2012, Emotions & Essential Oils, Enlighten Alternative Healing
Simmons, Robert & Ashian, Naisha. 2007, The Book of Stones, Heaven & Earth Publishing
Carrier Base: Organic Sunflower Oil

Essential Oils: Orange, Clary Sage, Rosemary, Bergamot, Lemon

Stones/Crystals: Citrine, Sunstone, Carnelian, Selenite, Quartz

Herbs: Calendula, Sunflower, Helichrysum, St. John's Wort

Flower Essence: Calendula, Oxeye Daisy, St. John's Wort
Roll onto wrist points, heart space or behind the ears.