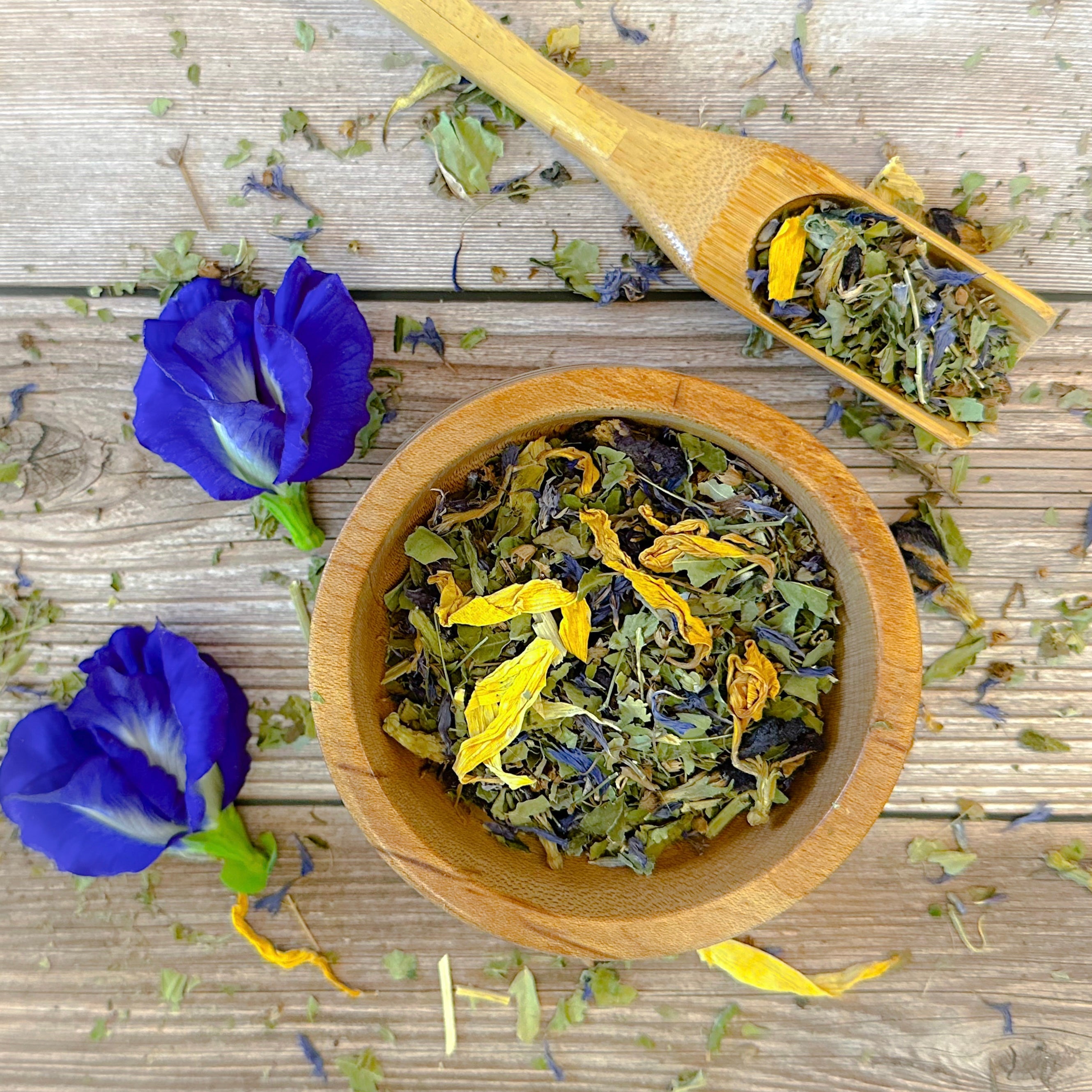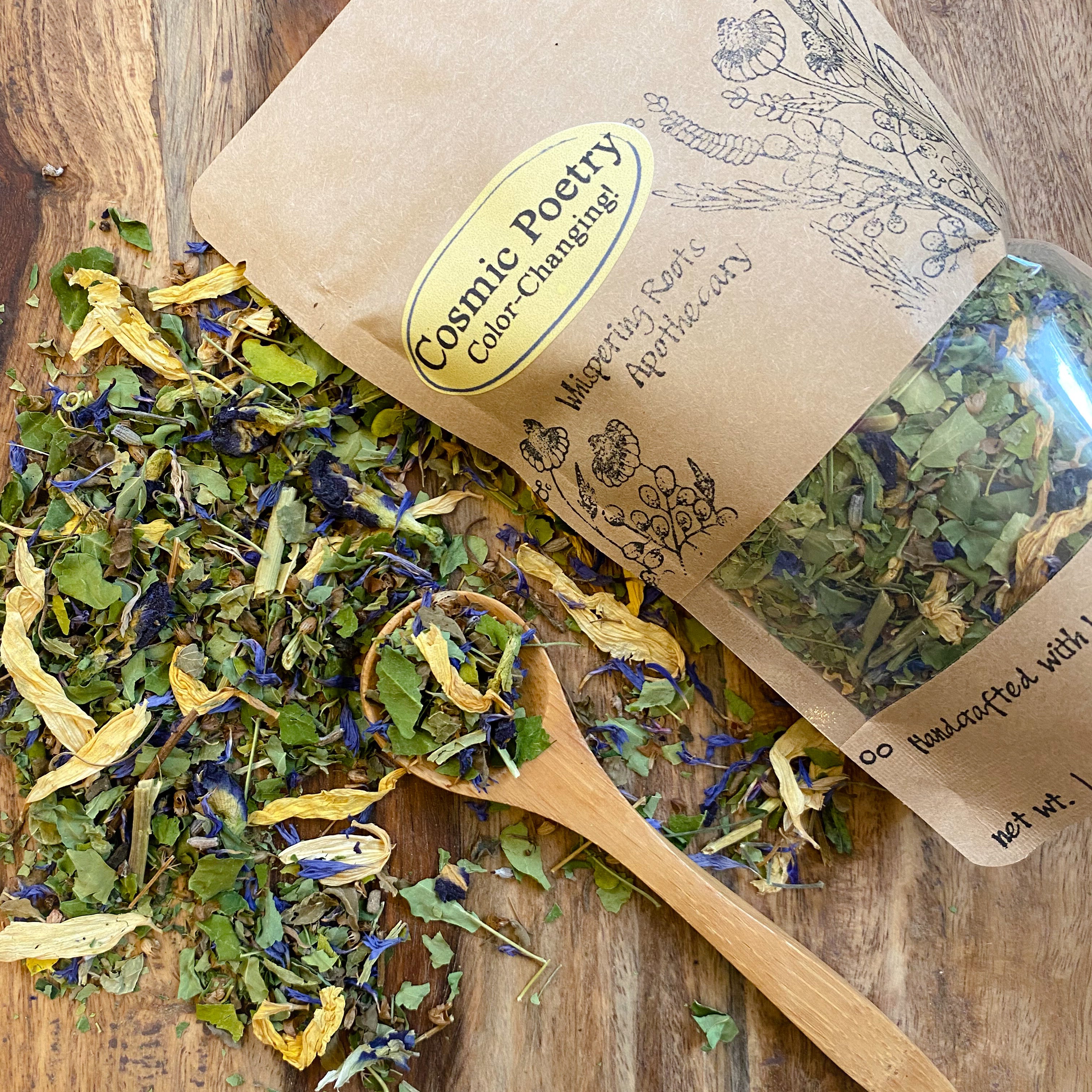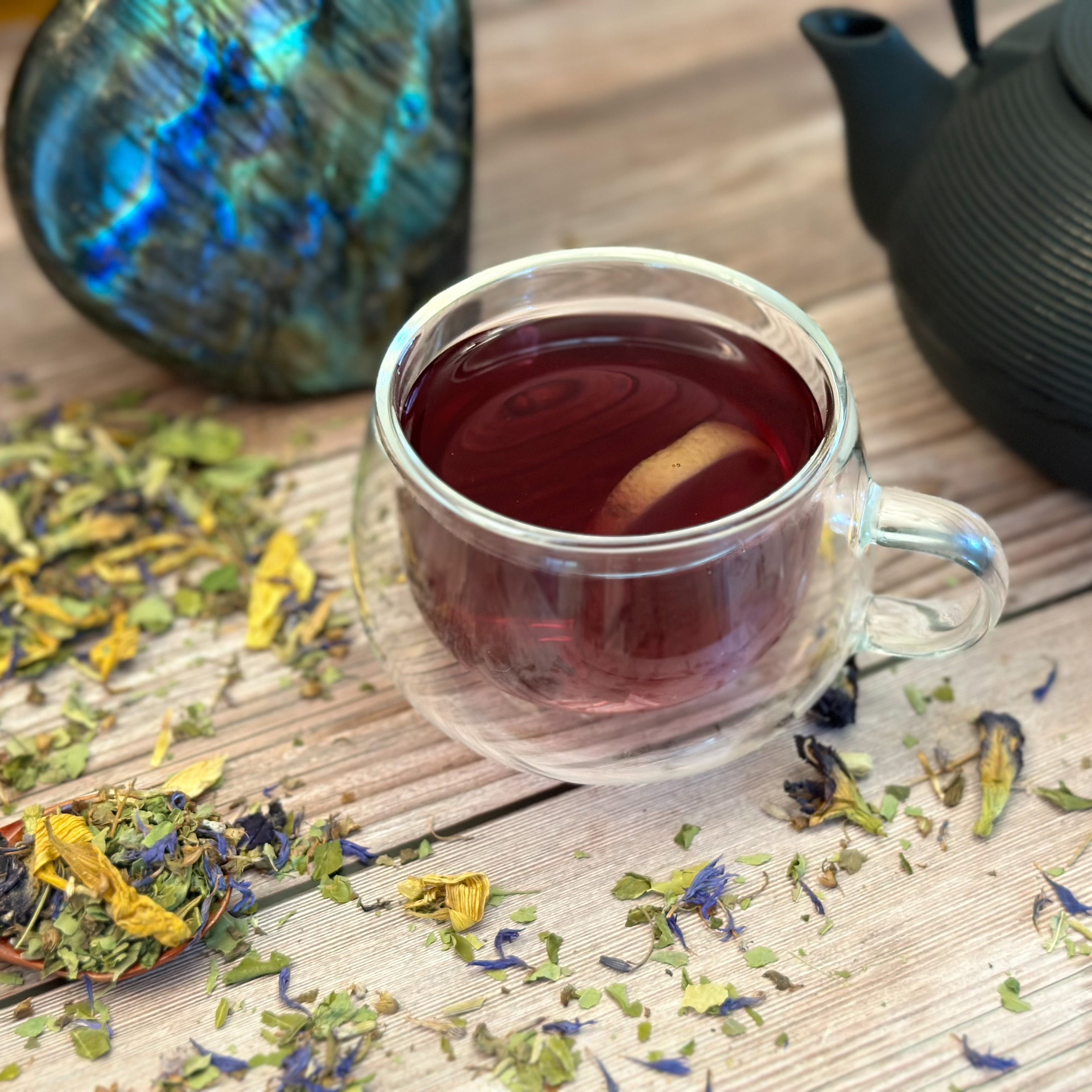 Cosmic Poetry is a beautiful soul-reviving, adaptogenic infusion that focuses on the solar plexus, heart, throat, third eye & crown chakras*. This tea is created with the artist, the lover, the yogi or the poet in mind. For a magical potion to astound your guests, try freezing edible flowers in silicone ice cube trays and add a slice of lemon to your colorful display! 
POTENTIAL BENEFITS:
Adaptogen* (R)
May help reduce stress/depression/anxiety* (R) (R) (R)
ENERGETIC PROPERTIES: 
Tulsi is a powerful purification herb, clearing out old, stagnant energy and emotions that could be damaging to wellbeing. It's said to bring balance and harmony, and according to yogic philosophy, it's one of few herbs that can align all chakras. Known as a "queen of herbs," it's thought to bring longevity, harmony and resilience. Nourishing moringa seeks to balance yin/yang energies within. Passionflower, herb of the crown chakra, symbolizes Christ Consciousness love vibration. Lavender's calming vibrations open and cleanse the crown chakra. Its spiritual rejuvenation quiets the ego, a perfect ally for meditation, its resonance with the third-eye chakra summons clairvoyance and intuitive insights. Lavender brings a newfound understanding and encourages embracing spiritual gifts. Sunflower's petals stabilize the solar plexus, radiating joy, bravery and warmth. Butterfly pea brings balance to the throat, third eye and crown chakras, while cornflower unveils the emotional heart, restoring trust, vulnerability and innocence.
*These statements have not been evaluated by the FDA. This product is not intended to diagnose, treat, cure or prevent any disease.
Organic Ingredients: Moringa Leaf (Moringa oleifera), Holy Basil (Ocimum tenuiflorum), Passionflower (Passiflora incarnata), Lavender (L. angustifolia), Sunflower Petals, Butterfly Pea (Clitoria ternatea), Cornflower Petals (Centauroa cyanus)
Serving Size: 1 tsp.
Approx. 30 servings
Steep Time: 3-5 min.

Add 1 heaping tsp of tea (or 1 TBS for stronger tea) to infuser or teapot. Pour 6-8 oz. boiling water over the tea. Let steep (see tab above for proper times)
We recommend that you consult with a qualified healthcare practitioner before using herbal products, particularly if you are pregnant, nursing, or on any medications.