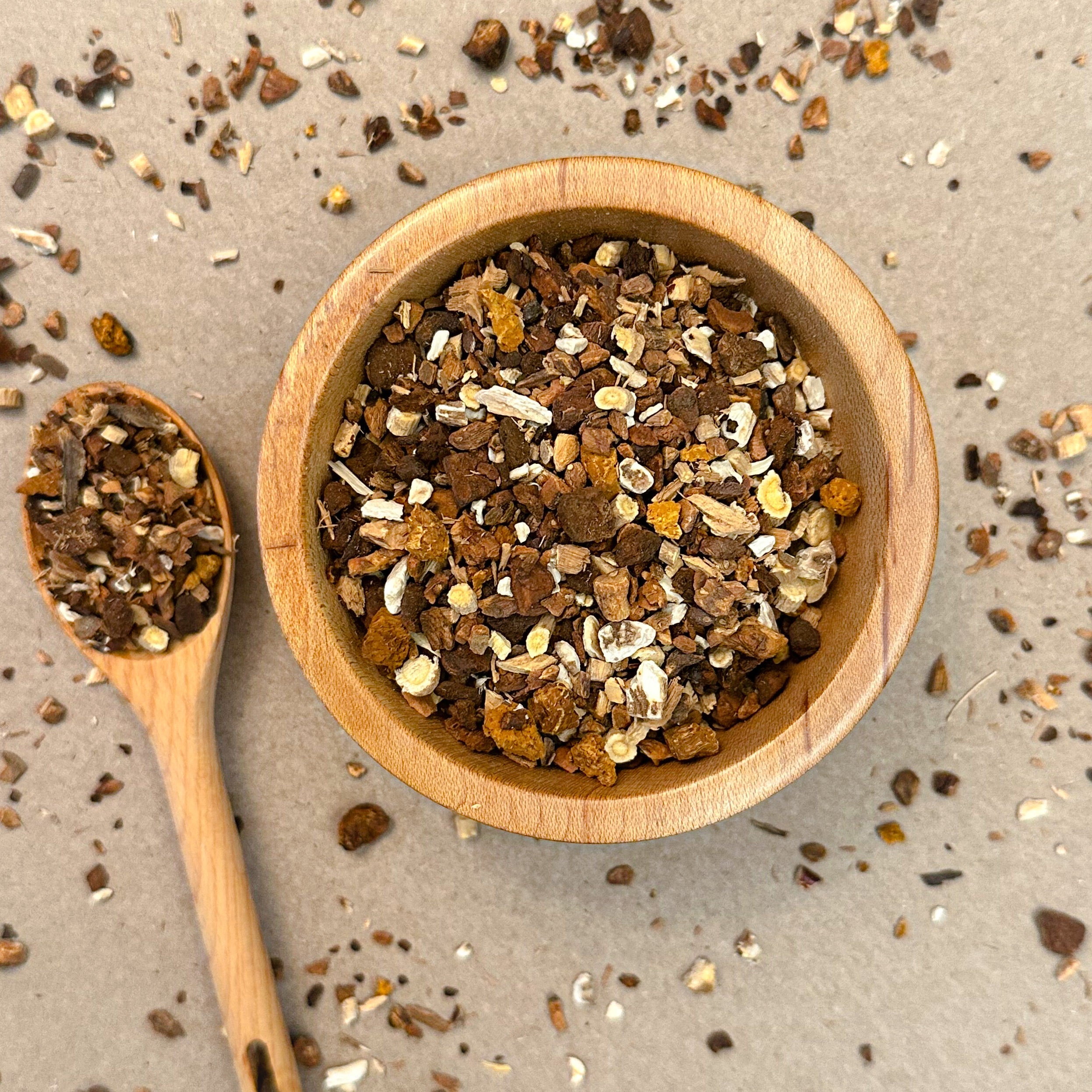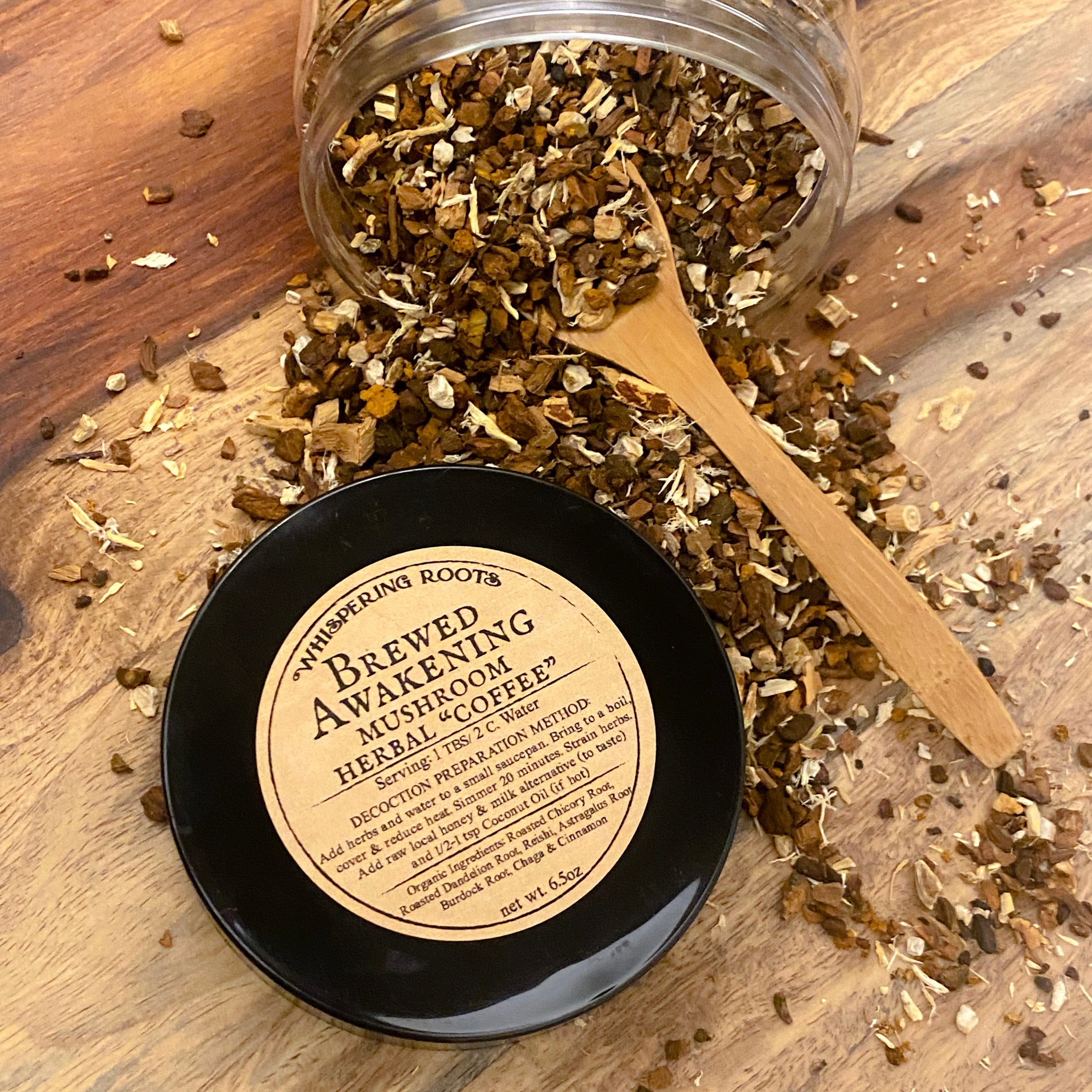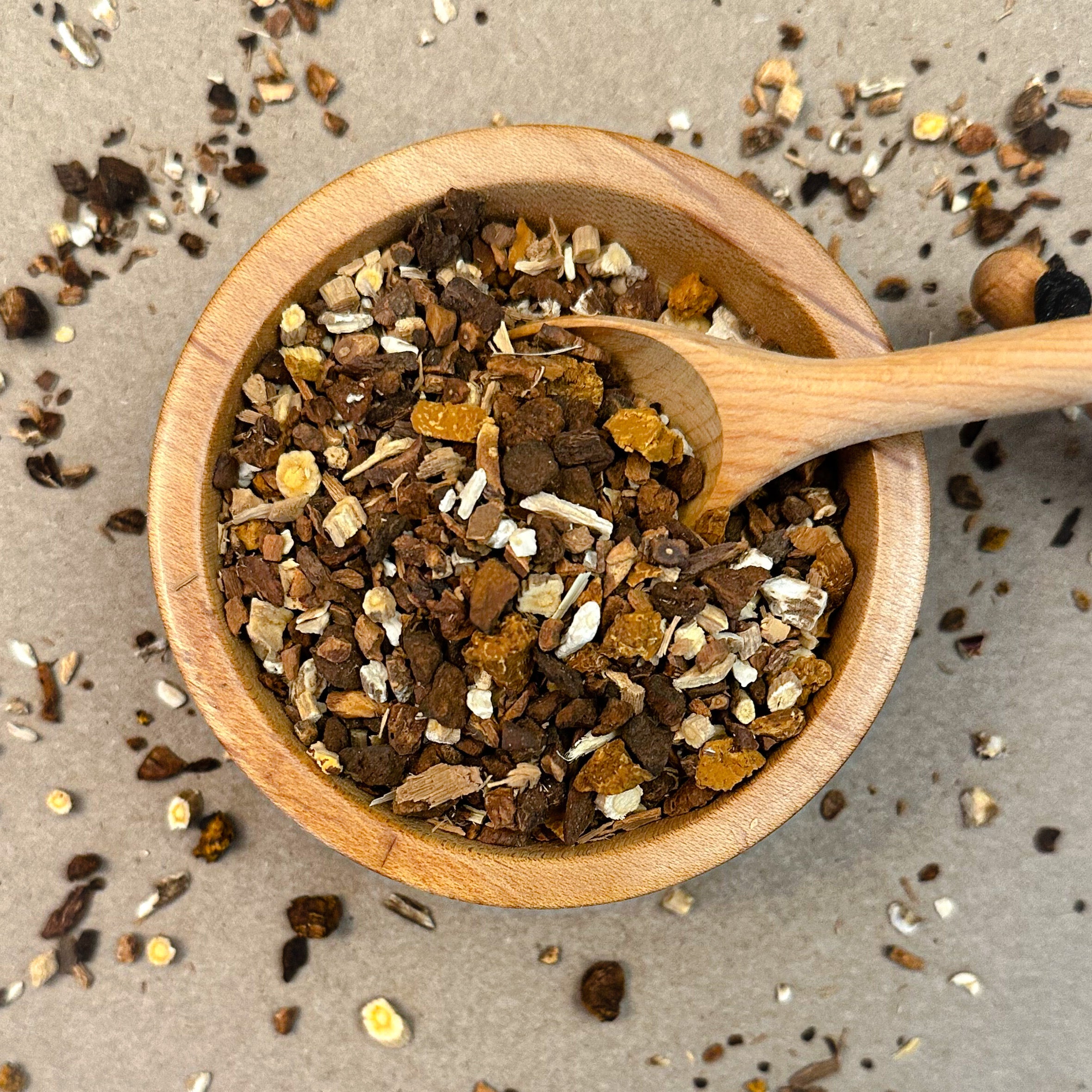 Brewed Awakening // Mushroom Herbal Coffee Substitute
Want to cut down on your caffeine intake, but still love the taste of coffee? Brewed Awakening is a beautiful combination of roots, barks and mushrooms similar to the flavor and aromatics of coffee, but its tea! Our caffeine-free herbal substitute is formulated with ingredients rich in antioxidants and nutrients to enhance your morning or afternoon ritual to boost your day without the crash.*
POTENTIAL BENEFITS:
Adaptogenic* (R)
May support immune function* (R) (R) (R) (R)

May reduce inflammation* (R)
May help protect the liver* (R) (R) (R)
May support healthy digestive function* (R)
May help reduce stress/anxiety* (R)
*These statements have not been evaluated by the FDA. This product is not intended to diagnose, treat, cure or prevent any disease.
Organic Ingredients: Roasted Chicory Root (Cichorium intybus), Roasted Dandelion Root (Taraxacum officinale), Reishi (Ganoderma lucidum), Astragalus Root (Astragalus membranaceus), Burdock Root (Arctium lappa), Chaga (Inonotus obliquus), Cinnamon (C. burmannii)
Serving Size: 1 TBS.

2 oz Sampler, Approx. servings: 8

5.5 oz, Approx. servings: 21

6.5oz, Approx. servings:


Hot infusion: Add 1 TBS to infuser or teapot. Pour 6-8 oz. boiling water over the tea. Cover & steep 5-10 min. or to desired strength.

Decoction Method (Recommended):
Bring 2 C. water to a boil on stovetop, add 1 TBS dried herbs, then cover & reduce heat to low. Simmer 20 minutes. Turn off stove and allow to cool some. Strain herbs from tea into mug. Add raw honey (if desired, to sweeten) & milk alternative (to taste). Blend in 1/2-1 tsp Coconut Oil (if hot)

Note: This blend works best by adding a source of heathy fats (ie. ghee, coconut oil, coconut milk)

We recommend that you consult with a qualified healthcare practitioner before using herbal products, particularly if you are pregnant, nursing, or on any medications.