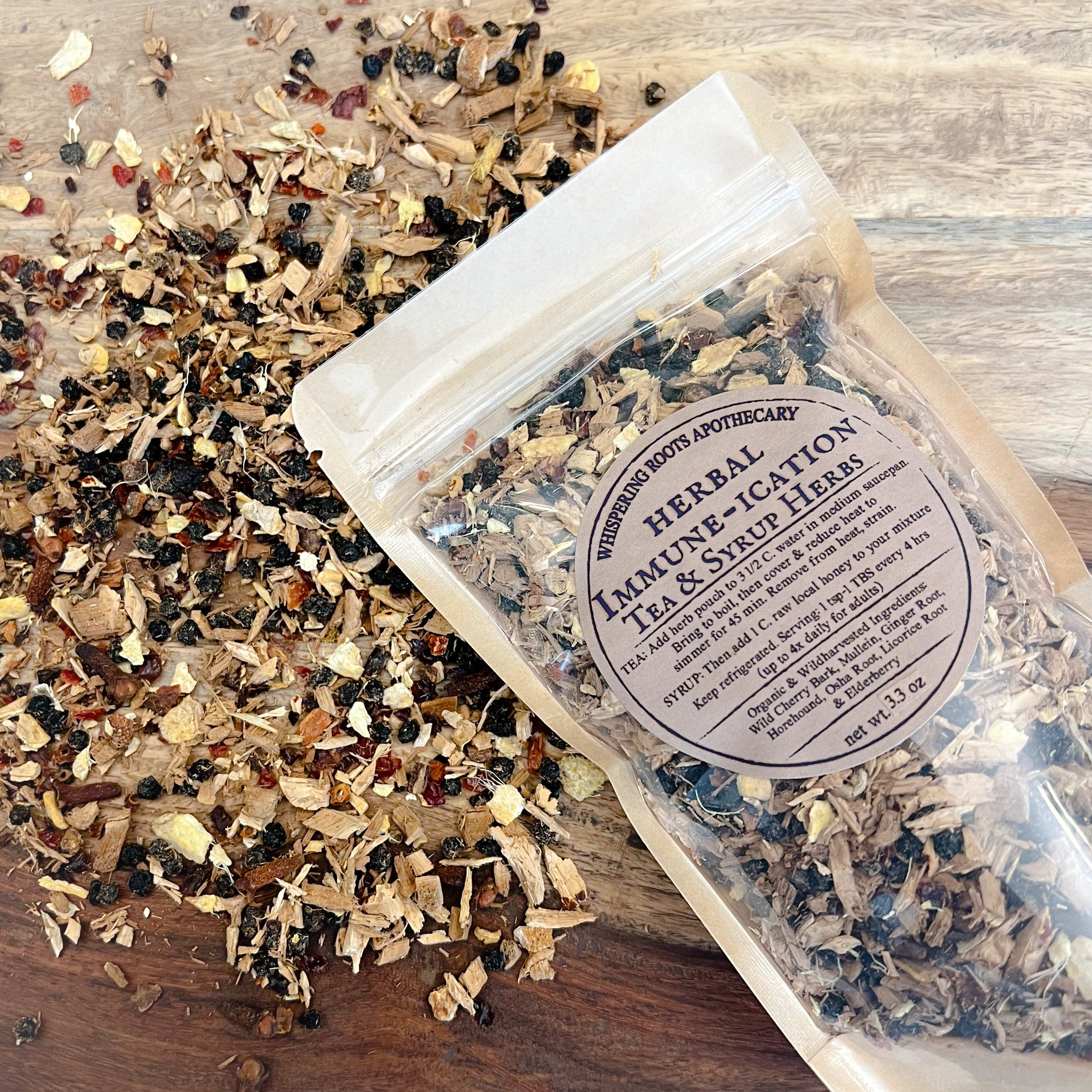 Our Immune-ication blend contains all the ingredients of our Elderberry Syrup with added benefits of reishi, rosehips, orange peel and osha root. Rosehips & orange peel offer an extra source of Vitamin C. These additional herbs create a more balanced taste & formula to support immune health.* 
Our tea & syrup herb pouches can be prepared in a variety of ways, including standard infusion, decoction method or made into a syrup. 
POTENTIAL BENEFITS:
May support healthy immune function* (R) (R)
*These statements have not been evaluated by the FDA. This product is not intended to diagnose, treat, cure or prevent any disease.
Organic Ingredients: Reishi (Ganoderma lucidum), Rosehips (Rosa spp.), Elderberry (Sambucus nigra), Ginger (Zingiber officinale), Orange Peel (Citrus sinensis), Clove (Syzygium aromaticum), Cinnamon (C. burmannii)
Syrup: Pouch contents yield approx. 500ml + once honey is added
Hot Infusion: 1 TBS per cup. Steep 5-10 min, covered, or to desired strength.

Decoction Preparation Method for Tea:

Bring 3 1/2 cups water to a boil via stovetop
Add contents of herb pouch, cover & reduce heat to low
Simmer 45 minutes
Once the tea has cooled some, strain herbs from your decoction and discard to compost.
Keep refrigerated (shelf life as tea without honey added is 3-5 days)


For SYRUP option:

Blend 1 C. Raw Honey to your tea, Stir well.
Store in mason jar or amber bottle, keep refrigerated and away from light. (Shelf life with honey added if stored properly is 3-6 months)
Note: Pouch contents yield approx. 500ml + once honey is added.
1/2 - 1 TBS. daily for adults
We recommend that you consult with a qualified healthcare practitioner before using herbal products, particularly if you are pregnant, nursing, or on any medications.