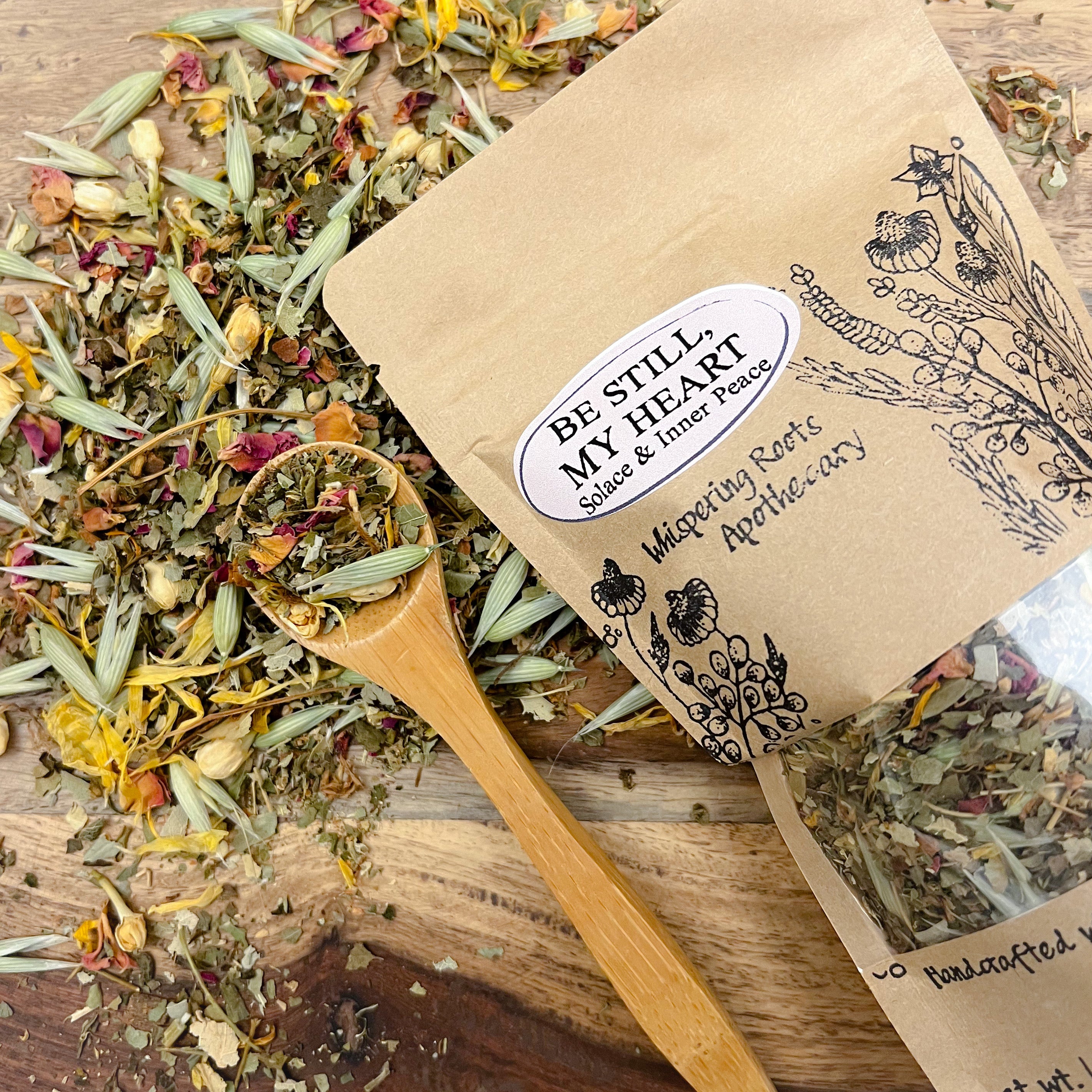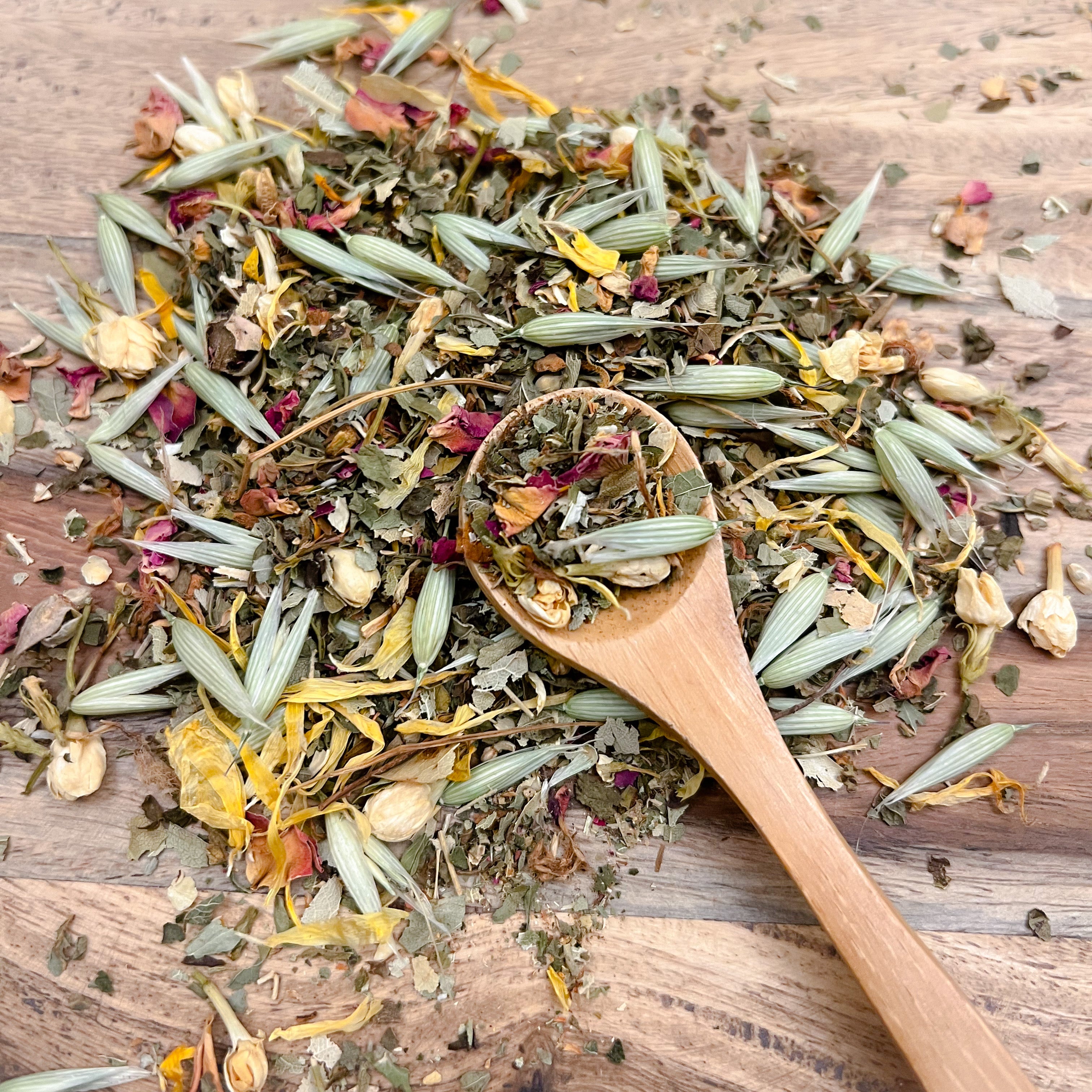 Be Still, My Heart is a soulful herbal tisane with beautiful energetics for the gentle spirit. Caffeine free.
"Within yourself is a stillness and a sanctuary to which you can retreat at any time and be yourself" ~Herman Hesse
In these powerful shifts of healing and change within our experience, we may encounter waves of heaviness, sadness or grief. Sometimes we feel lost, shut down and unsettled in our hearts. Grief is circular...it comes in and out of our lives like the tides of the sea. When caught between the place of prayer and action, fear or love, grief or gratitude…we often need to pause. Even if only for a moment to collect our thoughts and to dive beneath our surface to feel & navigate our emotions fully.
It is within this stillness we can reset ourselves. It is within our sanctuary we can learn find the safety and comfort we need to heal, a place we can learn acceptance, forgiveness and love. This herbs in this tisane offer us deep emotional support and nurturing in great times of need. Be still, my heart~ offers solace, compassion and warmth, while promoting heart chakra healing, protection within our vulnerability and offers us the strength to raise our gaze to the sun once more (and in our own time.) 
POTENTIAL BENEFITS:
Adaptogenic* (R)
May help reduce stress/ anxiety* (R) (R)
ENERGETIC PROPERTIES:
Melissa (lemon balm) provides comfort and solace, uplifting the Spirit in times of need. She can support a troubled tummy when emotions cause difficulty digesting our circumstance.* Hawthorn comforts the heart in moments of stress, sorrow, and heartache, opening pathways, facilitating feelings and inspiring hope, trust, love, and forgiveness. Linden (a tree of happiness) nurtures the emotional and spiritual heart, offering love, protection, and balance to the heart chakra. Oats are an ally in times of exhaustion. Jasmine brings serenity, calming fear and balancing emotions. Rose aids heart healing, purifying and encouraging forgiveness. Calendula encourages joy, amplifying the solar plexus chakra and clearing energy. Mimosa brings resilience and joy to painful situations as well as tenderly anchoring the heart. Motherwort offers strength and solace for trauma and grief, while St. John's wort "lets the light in" (to souls that may feel "deep-pressed") to anchor the spiritual sun as a source within, rather than outside of the self. Calendundula & cinnamon bring warmth and comfort.
*These statements have not been evaluated by the FDA. This product is not intended to diagnose, treat, cure or prevent any disease.
Organic Ingredients: Lemon Balm (Melissa officinalis), Hawthorn (Crataegus monogyna), Linden (Tilia sp.), Oat Tops (Avena sativa), Jasmine (Jasminum odoratissimum), Red Rose (Rosa spp.), Calendula (Calendula officinalis), Mimosa Flower (Albizia julibrissin), Motherwort (Leonurus cardiaca), St.John's Wort (Hypericum perforatum) & Cinnamon (Cinnamomum burmanni)
Serving Size: 1 tsp
Approx. 30 servings
Add 1 heaping tsp of tea (or 1 TBS for stronger tea) to infuser or teapot. Pour 6-8 oz. boiling water over the tea. Let steep (see tab above for proper times)
We recommend that you consult with a qualified healthcare practitioner before using herbal products, particularly if you are pregnant, nursing, or on any medications.